DVERG
Kazuno table hanger
Regular price
Sale price
$56.00
Unit price
$0.00
per
Point
A table hanger made from deer antler procured locally in Fukui.
We asked craftsmen at the foot of Mt. Fuji to finish each one by hand.
The DVERG logo is engraved on carefully sewn deerskin.

Deerskin is moist, soft, stretchy, breathable, and durable. However, because of its softness, sewing requires skilled techniques, and it is necessary for craftsmen to carefully finish each piece. As wild deer sustain various large and small wounds in their lives, the parts that can be used for tanning leather are limited, making it a very rare leather.

Of course, it is an item that shines as an interior as well as outdoors.
Please use it by fixing it to a flat object such as a table and hanging a lantern or Sierra cup.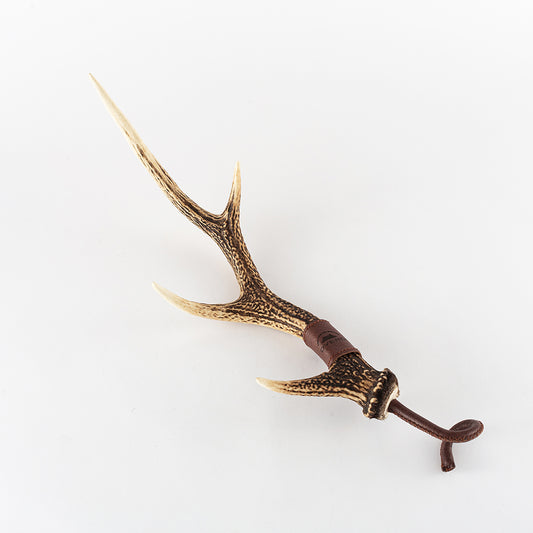 Regular price
From $56.00
Regular price
Sale price
From $56.00
Unit price
$0.00
per
Spec
Color
Leather: brown
Size
The width of the clamp (the width that can be sandwiched) is within 2.5 cm (thickness of the table to be sandwiched)
S size (small) about 30cm to 50cm
*Because it is a natural horn, there are individual differences in the shape.
Material
antler, leather
Origin
Shizuoka Prefecture Fuji Hakone Gibier
Note
*Although the corners and leather are roughly the same size as the product image, there are individual differences due to handmade products and natural materials. Please be aware in advance.
*There may be fine scratches and marks on the surface of the leather and corners. Please understand the appeal of vintage products before purchasing.

Information
Shipping fee will be calculated at checkout.